CSS-50
SHORT
STEREO
SHOTGUN
Short Stereo Shotgun with 3 modes – Mono/Stereo/Wide
The CSS-50 is an affordable, easy to operate and flexible microphone designed for use in broadcasting and feature films requiring stereo and surround sound. The CSS-50 clearly captures stereo center-targeted sound with moderate ambient noise. To achieve this, Sanken developed the three-capsule CSS-50 to capture the center sound like a normal shotgun with the addition of two mic capsules for variable stereo imaging.
Thanks to original thin square capsule design, 3-capsules can be installed in a short acoustic tube, maintaining basic shotgun performance equivalent to the CSS-5 in a compact body. High-performance electret condenser capsules deliver a wide frequency response, and high sensitivity. Choose between sharp mono directivity, directional stereo, or a wide 140º pattern all with consistent sound characteristics.
CSS-50 shown with optional KS-50 shock mount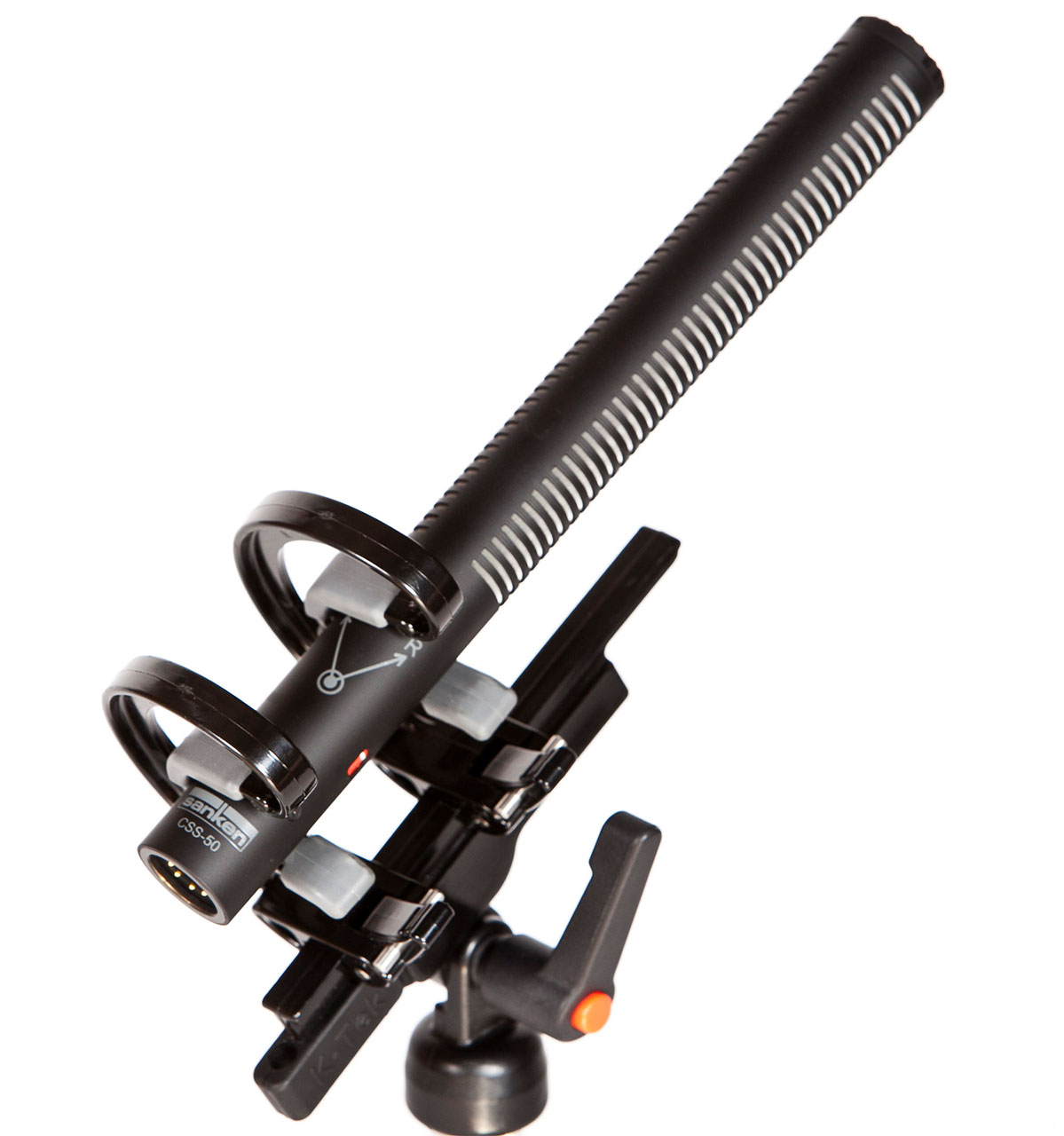 3-diaphragm Electret Condenser Mic Offers Innovative Technology in a Short Practical Form Factor
Thanks to the three-capsule line array for frontal pickup, with its elements arranged vertically along the same axis, Mono / Stereo compatibility is superb.
In the MONO mode, sharp directivity is maintained over a wide frequency range for the aimed frontal sound sources, using the combination of a second gradient microphone and a line microphone. It is significant that the CSS-50 picks up the chosen sound source very clearly even in a noisy ambient situation or in a long reverberation space.
In the NORMAL mode, the CSS-50 clearly picks up the targeted sound as well as extremely accurate stereo localization. The Stereo angle is approximately 115 degrees. The WIDE mode is designed for stereo recording of sound effects. This mode allows a wider 140 degree pickup, whereas conventional M-S microphones have a maximum of 127 degrees.
When a directional microphone is near the sound source, the proximity effect results in a boosting of certain low frequencies and slight masking of others. The CSS-50 virtually eliminates the proximity effect in spite of sharp directivity, while the sonic characteristics do not change with varied distances between source and microphone. This is a significant advantage over all other directional microphones.
Unique 3 Capsule Design
Wide 100Hz-15kHz frequenzy response
Low proximity effect for more consistent sound
Short 8.5 inches
Mono – For sharp shotgun directivity and excellent low frequency definition
Normal – For precise directional hyper-cardioid focus with accurate stereo localization
Wide – Expanded 140 degree stereo image for cinematic ambiance and stereo sound effects
Standard XLR5 connector

Sanken CSS-50 Stereo Shotgun Microphone Quick Demo
YouTube video by Curtis Judd Audio checking out the CSS-50 shotgun mic.
Model Name

CSS-50

Transducer

Self Polarized Condenser x 3

Directivity

Super Cardioid
lobar and 2 channel stereo

Frequency response

60Hz – 20kHz

Sensitivity (at 1kHz)

MONO: 56mV/Pa (-25dB, 0dB=1V/Pa)
NORMAL: 100mV/Pa (-20dB, 0dB=1V/Pa)
WIDE: 141mV/Pa (-17dB, 0dB=1V/Pa)

Equivalent noise level (A weighted)

MONO: 16dB SPL
NORMAL,WIDE: 17dB SPL

Max SPL (1% THD, at 1kHz)

120dB SPL

Output impedance( 1kHz )

140 ohms

Powering

+48±4V phantom

Current consumption

4mA

Weight

5.6 oz (160 g)

Dimensions

8.5″ (215mm) length
0.87" (22mm) diam.


Surface finish

Matte Black

Connector

XLR-5M
1: GND  2: Lch Hot  3: Lch Cold
4: Rch Hot  5: Rch Cold