COS-11D
LAVALIER
HIGH-DEFINITION
MICS
Full Bodied Clarity Without Harshness and a Perfect Omni Pattern
Sanken Microphones Honored with AMPAS Scientific and Technical Award
Sanken Microphones is proud to be honored by the Academy of Motion Picture Arts and Sciences with a Scientific and Engineering Award plaque for the development of its innovative, ultra-miniature COS-11 lavalier microphone technology.
The new generation COS-11D ultra-miniature lavalier was designed to meet today's HD audio standards while providing greater immunity to RF interference.
The COS-11D is available in four colors (Black, White, Gray, and Beige) and with many connectivity options and accessories. It features a front mesh screen which is water resistant, better protecting the microphone from perspiration and cosmetics, and is ideal for outdoor shooting in foul weather.
The mic includes an exclusive vertical placement of the diaphragm for a much greater effective area within an extremely small casing. Sanken has combined extensive R&D with the world's most advanced precision craftsmanship for the ultimate in sensitivity and natural sound.
COS-11D shown with some of the many accessories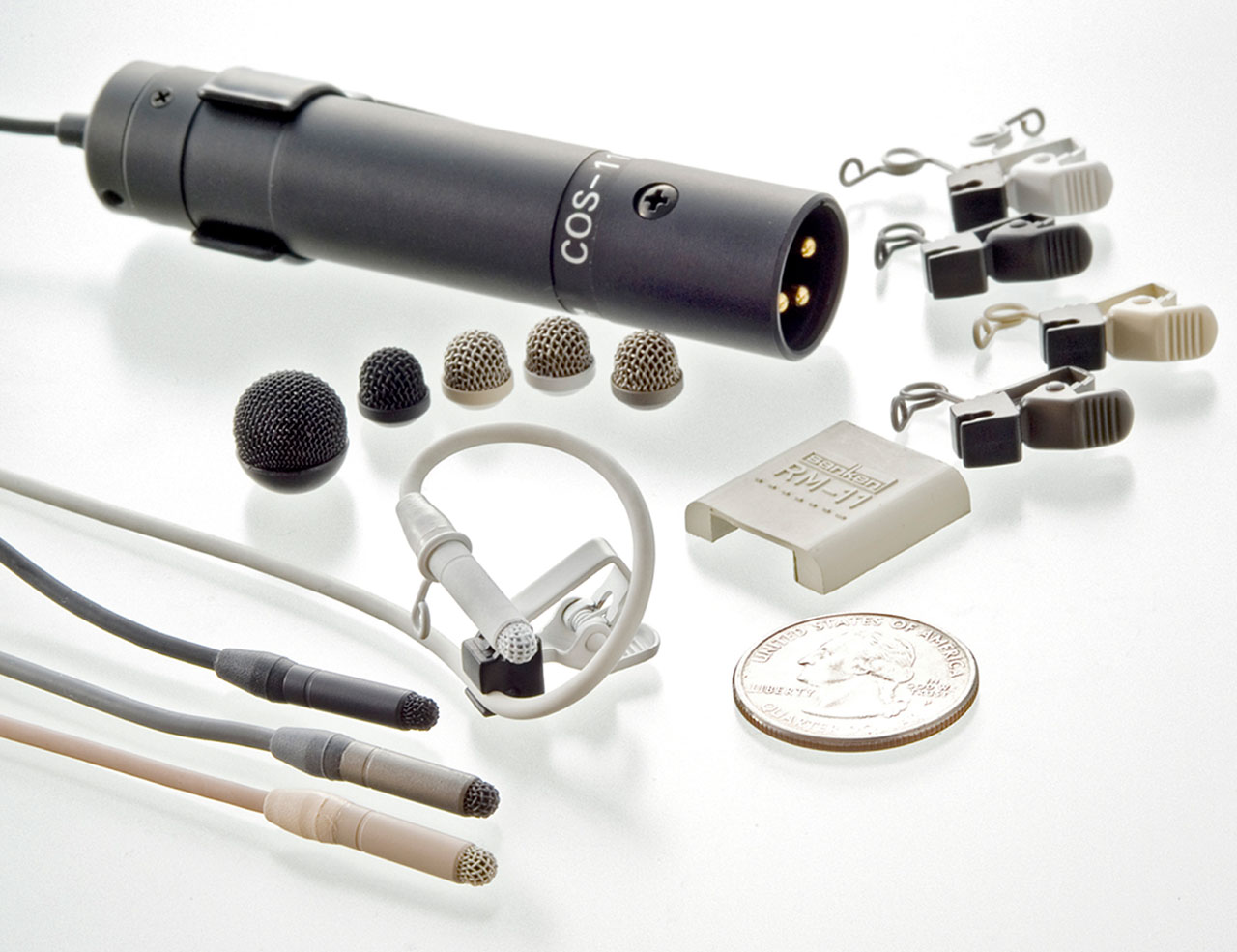 Available With Different Termination Options – Select the Version that Exactly Suits Your Needs
Frequency response and polar patterns are the same for all versions – see below for graphs and tech specs
Minimize RF Interference with Sanken's Advanced Design Technology
In today's wireless transmission systems the microphone must remain unaffected by new forms of digital transmitter signals. While the benefits of these new systems are obvious, they present new challenges in the area of emission protection. In many cases, noise levels increase and the S/N ratio is deteriorated by the interference of digital transmitters. Sanken has designed the COS-11D specifically to diminish the instances where interference is an issue. Endorsed by wireless transmitter manufacturers, the COS-11D PT incorporates exclusive design advances that deal with both digital and digital/analog hybrid RF wireless transmission.
Focusing on the latest challenges in wireless technologies, Sanken has partnered with industry leaders to provide a breakthrough microphone designed to minimize the instances where RF interference is an issue.
Increased immunity to RFI
Improved Durable Design
Same Great Clear and Rich Sound
Four Color Choices
Robust Moisture Resistance
Unique Vertical Diaphragm Design
Clear and Natural sound
20Hz-20kHz with 95dB dynamic range
Optimized for the Human Voice
2.1mm rugged cabling which is resistant to sweat, stays soft and pliable even after extended use
Quick Look | Sanken COS-11D Lavalier Microphone – B &H
The Sanken COS-11D lav mic is an industry standard because it delivers excellent sound while also being tough, moisture resistant, and versatile. In this video we use it with Sony and Sennheiser wireless systems so you can hear it for yourself.
Lavalier Microphone Shootout
Listen & compare Sanken's COS-11D to Sennheiser's ME-2 – before & after processing.
Model

COS-11D

COS-11D BP (BATTERY POWERED)

COS-11D PT (PIGTAIL)

Directivity

Omni-directional

Omni-directional

Omni-directional

Transducer

Pre-polarized condenser

Pre-polarized condenser

Pre-polarized condenser

Frequency response

50Hz – 20kHz

50Hz – 20kHz

50Hz – 20kHz

Sensitivity (±2dB at 1kHz)

17.8mV/Pa (-35dB)

6.0mV/Pa(-44.5dB)

8.9mV/Pa(-41dB) RM: 3.2mV/Pa(-50dB) 10kΩ load

Equivalent noise level (A weighted)

Less than 28dB-A

Less than 28dB-A

Less than 28dB-A

Signal to noise ratio (A-weighted)

More than 66dB

More than 66dB

More than 66dB

Max SPL (1% THD)

127dBSPL

120dBSPL

123dBSPL
RM:132dBSPL

Output impedance at 1kHz ( ±30%)

180 Ohms

200 Ohms

700 Ohms

Powering

+48V±4V U.P.F

1.5V AA battery or
+12V ~ +52V phantom

+3V ~ +10V to Black wire

Current consumption

Less than 2mA

Less than 0.8mA

Less than 0.3mA

Weight

235g (8.3oz) (excluding cable)

DC biased condenser

DC biased condenser

Dimensions

4.0mm X 16.1 mm (0.16″ x 0.63″)

4.0mm X 16.1 mm (0.16″ x 0.63″)

4.0mm X 16.1 mm (0.16″ x 0.63″)

Surface finish

Baked painting

Baked painting

Baked painting

Connector

XLR-3M
Pin 1: Ground
Pin 2: signal positive
Pin 3: signal negative

XLR-3M
Pin 1: Ground
Pin 2: signal positive
Pin 3: signal negative

Stripped cable ends (no connector)
Shield: Ground
White: source
Black: drain